Stanford University better stop this student from becoming an RA. There should be no tolerance for this blatant antisemitism on campus.
Racially Charged Facebook Posts
Stanford University student, Hamzeh D. is set to be an RA this Fall.  He posted on his public Facebook page that he will "physically fight Zionists on campus next year."  The job of Residential Assistants on campus is to help students adjust to student life. How will students who live under Hamzeh's care adjust when their beliefs are invalidated and their safety is threatened?
Take a Stand
The blatant antisemitism that is growing on college campuses, especially on California campuses, must be stopped. Here are 2 simple steps you can take in order to ensure that Hamzeh does not keep his RA position.
—
1. *Send an E-mail* to Stanford's Vice Provost for Student Affairs (Susie Brubaker-Cole)! Click here to see Email >> https://mailchi.mp/act-il/keep-stanford-safe
2. *Sign this petition* calling on Stanford administration to remove Hamzeh from his RA position and ensure the security of all students >> https://chn.ge/2JPHtS4
#Safety4Stanford
*PLEASE SHARE THIS WITH EVERYONE*
Hamzeh's Facebook Post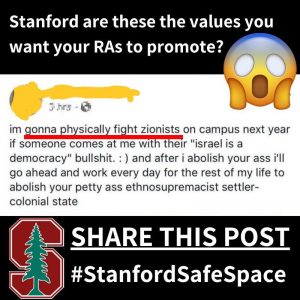 Anti-Israelism IS antisemitism
Such hatred toward "Zionism" and "Zionists" is clear antisemitism for one simple reason. It singles out the Jewish people. Such singling out is discrimination. And since it is discriminating Jews it is antisemitism. Zionism is the Jewish desire to self-determination in their ancestral homeland of Israel. Pasionately hating all those who support the Jewish right to self-determination, as opposed to all other people and nations in the world, is blatant antisemitism.